Zota
Xanthi (Greece)
¿Qué te motivó para empezar a ser un escritor de graffiti?
What motivated you to get started being a graffiti writer?
El sentimiento de calle, esa vibración de estar activo y formar parte de las calles.
That street feeling, the vibes of being an active part of the streets.
¿Qué tratas de decir con tus graffitis?
What do you try to say with your graffiti?
No soy el tipico escritor el cual utiliza el graffiti para decir y expresar lo que piensa, estoy tratando de difundir mi nombre y mi crew a través de la calidad del graffiti.
I'm not the type of writer who uses graffiti to say and to express thinks. I'm trying to spread my name and my crew through quality writing.
¿Cuál es tu estilo?
What is your style?
Mi estilo es basado en las principales formas de las letras, me gusta lo fácil que se puede leer el estilo con pequeñas conexiones, no prefiero complicarme en mi caligrafía de letras, menos es mas.
My style is based at the main form of letters, i like easy reading styles,with smart connections.I don't prefer to complicate my lettering too much and to go wild. Less is more.
¿Qué piensas sobre la idea de publicar tus graffitis en nuestra web como es elrincondelasboquillas.com?
What do you think about the idea of us publishing your graffiti on our web "elrincondelasboquillas.com"?
La idea fue perfecta, he escuchado muchas buenas cosas sobre ti, así que la idea de apoyar al tio que apoya y ama las letras reales es genial, también me encanta tu país.
The idea was perfect,i've heard a lot of good words about you,so what's better of support a good guy who loves and supports real writing?Also i'm in love with your country!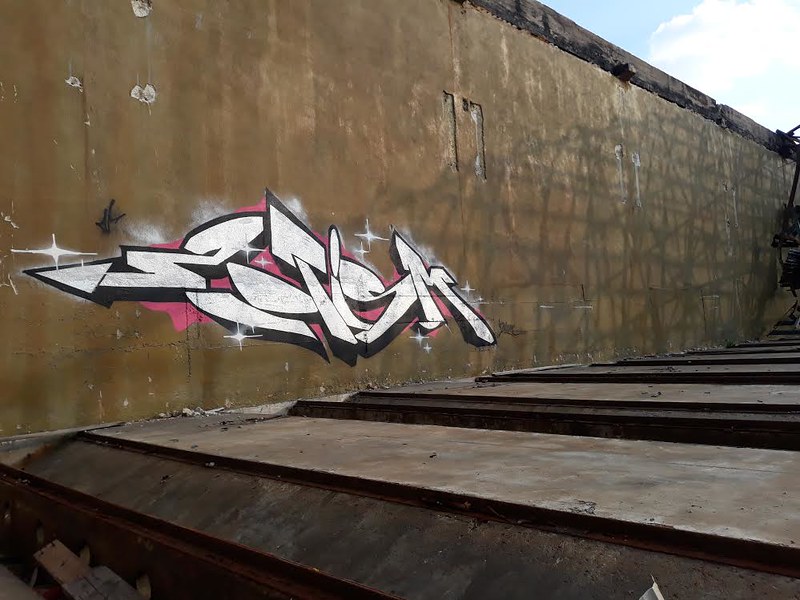 ¿Te acuerdas de la primera pieza?
Do you remember the first piece?
¡Claro que lo recuerdo! Fue en el 2000 cuando tenía 12 años. Lo hice con un amigo mío que era mejor que yo en los días en que pintaba diferentes tipos de cosas.
La sensación de entonces y ahora cambió tanto, que en ese momento no sabía nada sobre la escena y la historia del graffiti. 20 años después, lo único que quiero es desarrollar mi estilo en puntos y acciones muy específicas.
Of course i remember it!It was back at 2000 when i was 12 years old.I did it with a friend of mine who was better than me back at the days at painting different kind of things!
The feeling of then and now changed so much,at that time i didn't know nothing about the scene and the history of graffiti.20 years later,the only thing that i want is to develop my style at very specific spots and actions,
¿Cuál es tu crew?
What is your crew?
Mi crew es los Funkie Freaks aka FF aka Forever Fresh aka Fuck Fashion y los miembros de la crew son Ezion,Sipe and Rome26. un amor para mi familia!
My crew is the Funkie Freaks aka FF aka Forever Fresh aka Fuck Fashion and the members are Ezion,Sipe and Rome26.One love fam!
Y para terminar ¿algo que quieras decir?
And to finish, something you want to say?
Un saludo para mi crew y para la gente de Use crew,Cats & Klark y para El Rincon De Las Boquillas.
Big up to my crew and my peoples,to Use crew,Cats & Klark and to El Rincon De Las Boquillas.