Zurik
Bogota (Colombia)
¿Por qué tu tag es Zurik?
Why your tag is «Zurik»?
Mi tag nació de un personaje que cree un año antes de pintar aproximadamente, era un personaje que me reflejaba en esa época, y aun lo sigue haciendo y que en cierto modo hacia muchas cosas que yo anhelaba y era muchas cosas que yo deseaba ser cuando creciera un poco mas, su nombre era la representación de 5 personas que estuvieron conmigo en una época difícil, 5 personas= 5 letras…. ZURIK.
My tag was born of a character that I created a year before painting about, it was a character who reflected me at the time, and nowadays this character continues reflecting me and in a way to many things that I craved and was a lot I wanted to be when grow a little more, his name was the representation of 5 people who were with me in a difficult time, 5 people = 5 letters …. Zurik.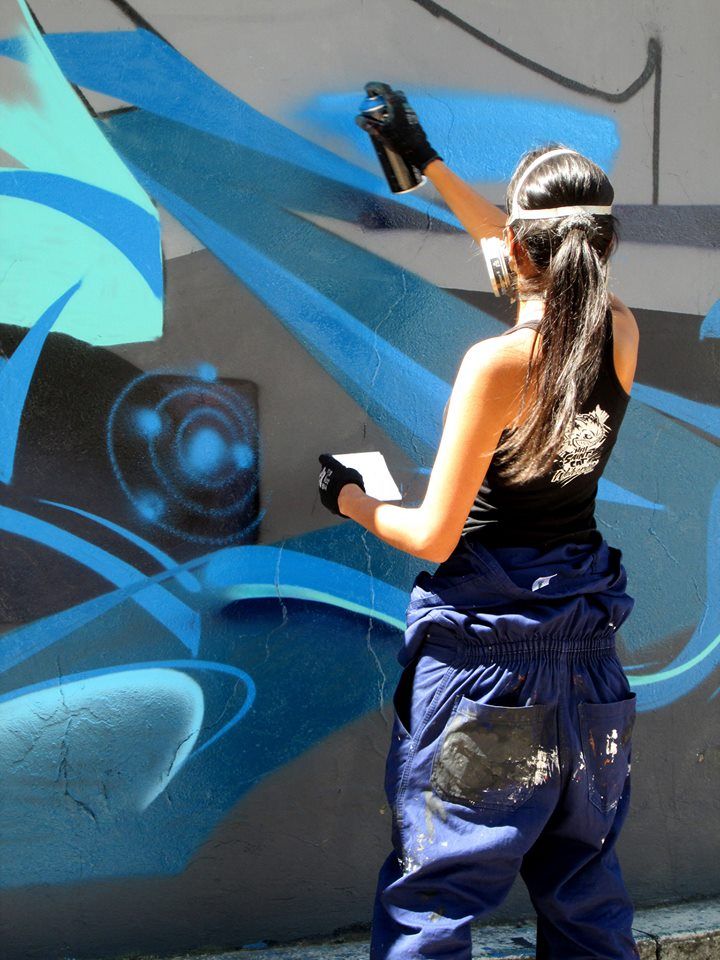 ¿Qué fue lo que te motivo para coger un spray y ponerte a pintar en la calle?
What motivated you for taking a spray and start painting in the streets?
Duré bocetando no muy constantemente unos años antes, pero la motivación la encontré cuando vi pintar directamente a otras personas, eso me lleno completamente, me motivo porque por primera vez veía hacer graffiti en persona, era apasionante ver como pintaban, cada vez que salgo sigo teniendo la misma sensación, asi que es una motivación constante.
I was sketching not constantly a few years earlier, but the motivation I found it when I saw directly other writers painting, that completely filled me, motivated me because for the first time i was seeing graffiti in person and was exciting to see how they painted, every time that i paint i have the same feeling, so is a constant motivation.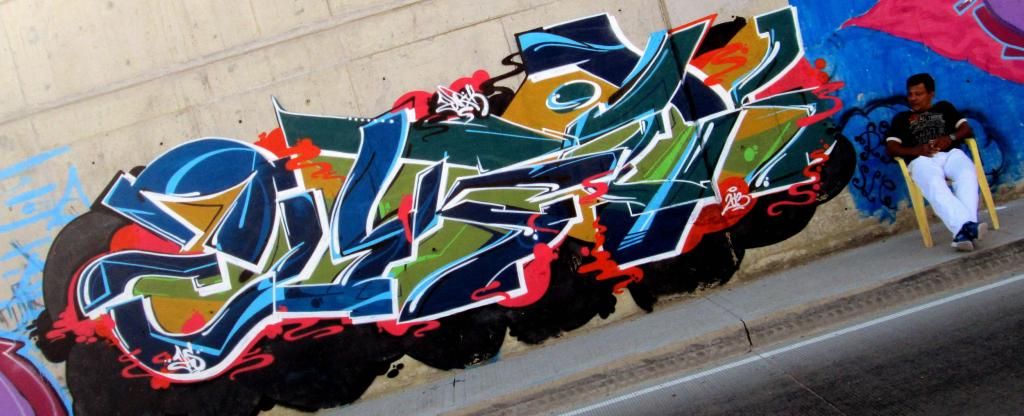 ¿Cuál es tu estilo?
How is your style?
No estoy muy clara en eso aun, trata de ser un Wildstyle, y termina siendo Letras en Wildstyle pero rellenos en 3d, o letras sencillas con rellenos complejos, no me gusta mucho definirlo, asi como tampoco me gusta casarme con un estilo, trato de siempre hacer cosas frescas para no aburrirme, siempre estar cambiando… nunca repito una letra, es la base de todo lo que hago, nunca repetir.
I'm not quite clear on that yet, I try to do a Wildstyle, and ends up Letters on Wildstyle but fills in 3d, or simple letters with complex fills, i don't really like to define it, also I don't like to focus in a specific style, I try to always doing cool things to not get bored, always to be changing … never repeat a letter, It is the basis of everything I do, I never repeat.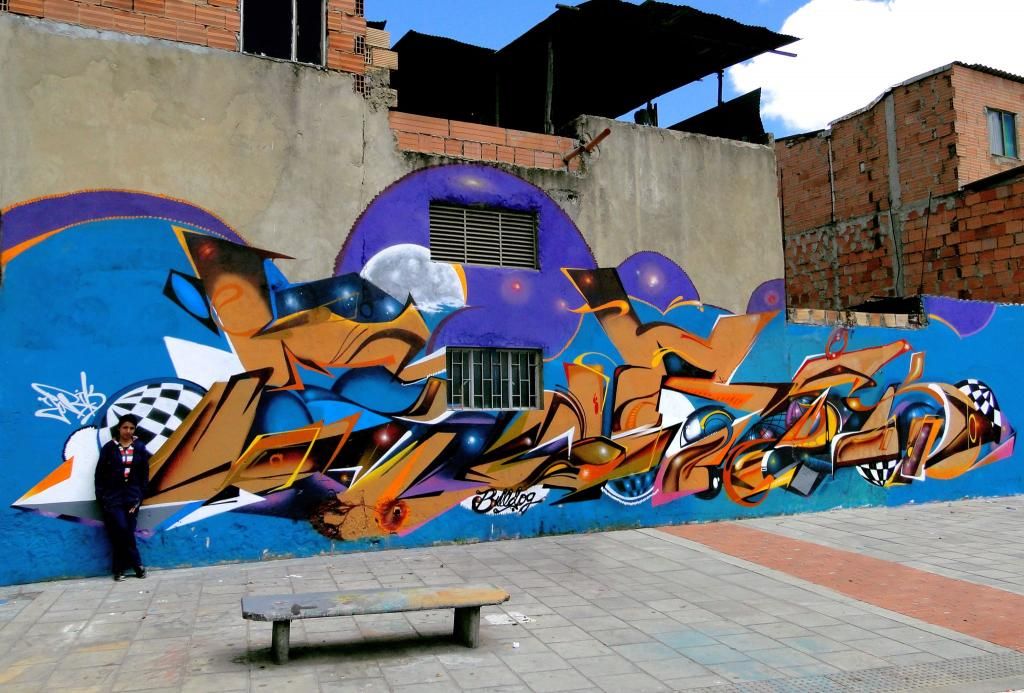 Graffiti ¿cantidad o calidad?
Graffiti …. Quantity or Quality?
Ambos. Cantidad y calidad son posibles pero exigen un compromiso grandísimo, no se trata solo de estar activo todo el tiempo sino de exigirse cada dia como si cada dia fuera la ultima vez que vas a coger un spray, como si fuera la ultima pieza o el ultimo bombing que harías en tu vida, pensar que cada dia se puede ser mejor porque esa es la ultima oportunidad de probarte a ti mismo es la mejor manera de evolucionar.
Both. Quantity and quality are possible but require a huge commitment, not just about being active all the time but required each day as if every day was the last time you're taking a spray, like the last piece or the last bombing that you would do in your life, think that every day can be best because this is the last chance to prove yourself is the best way to evolve.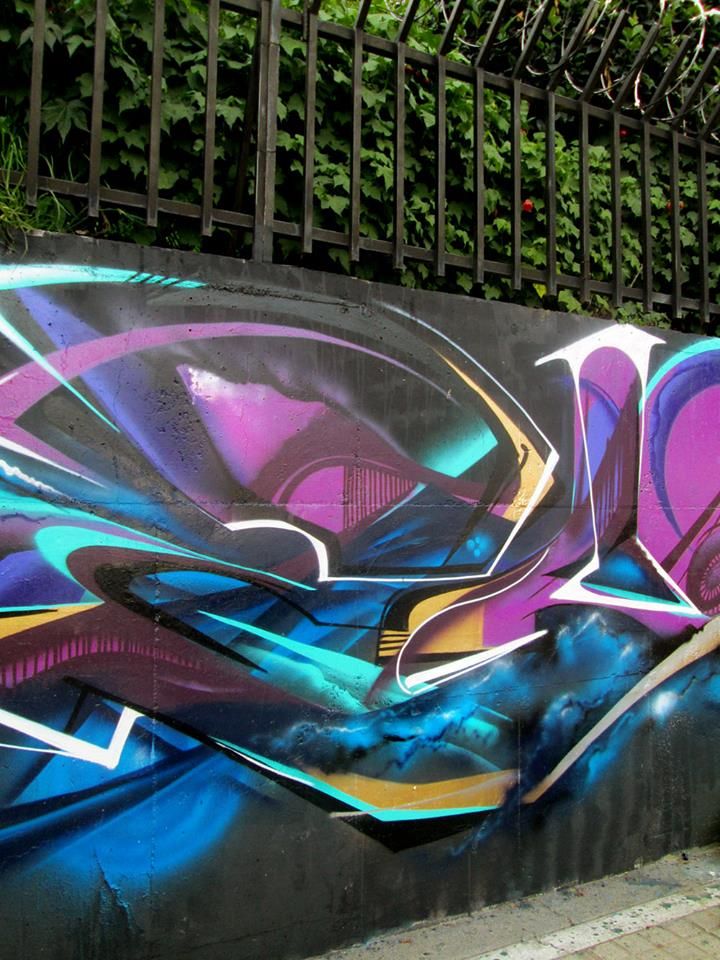 ¿Qué tratas de decir con tus graffitis?
What do you try to transmit with your graffitis?
No trato de decir mucho pero se refleja a veces, los que han seguido mi trabajo extrañamente a veces saben exactamente mi estado anímico a la hora de pintar, personalmente soy muy complicada, hasta las cosas mas sencillas las enredo y creo que eso se ve reflejado en la manera en la que pinto, a veces insegura, a veces deprimida,pocas veces realmente feliz, de ahí se derivan las combinaciones de color. Algunas veces pongo frases, frases motivadoras, porque de la misma manera en como yo me enamore de esto, quizás algún dia a través de mi alguien mas lo haga.
I'm not trying to say much but sometimes you can see reflected, those who have followed my work strangely sometimes they know exactly my mood at the time of painting, I am personally very complicated, even the simplest things I the entanglement them, and I think that is reflected in the way I paint, sometimes insecure, sometimes depressed, really happy few times, hence the color combinations are derived. Sometimes I write quotes, motivational quotes, because in the same way as I fell in love with this, perhaps some day through my someone else does.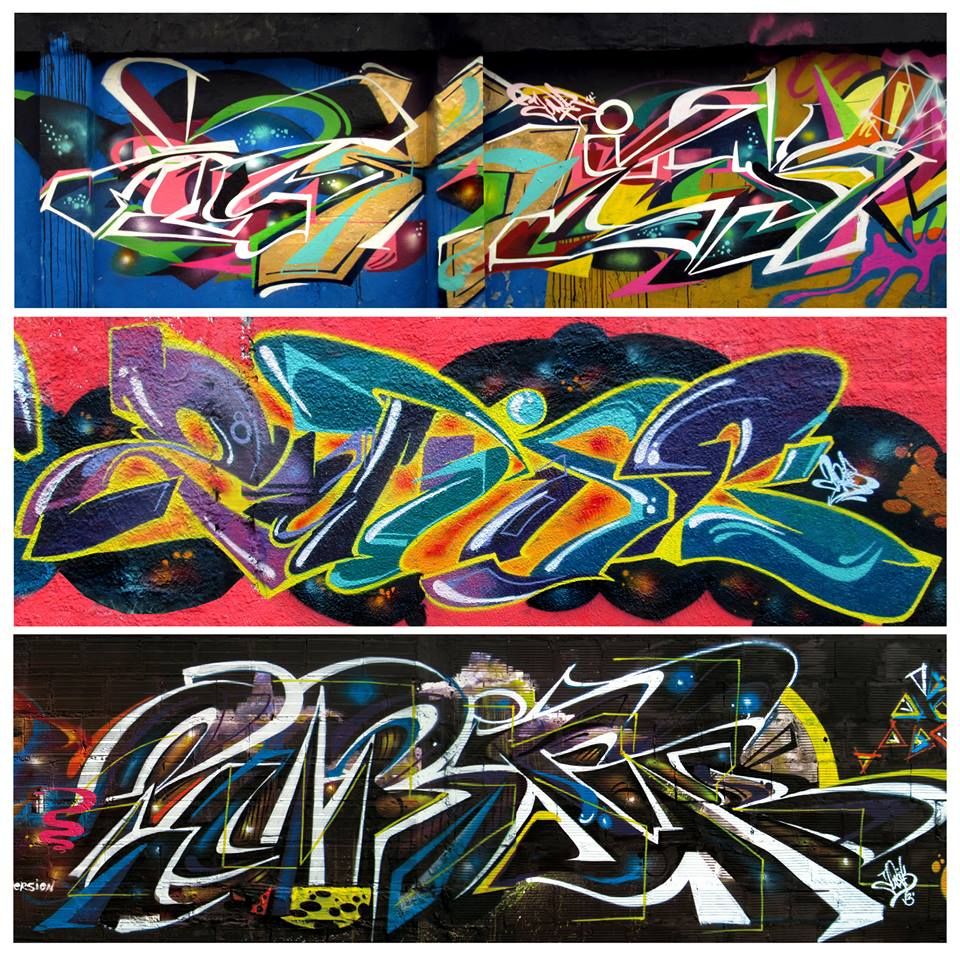 ¿Cómo te imaginas el graffiti en un futuro (año 2085)?
How do you imagine graffiti in the future (Year 2085)?
Imagino que la maquina también incursionara en el Graffiti!, existirán ayudas extras como extensores para aerosol, o una misma lata que contenga dos o mas colores y puedas cambiar el color a tu antojo. Boquillas que no se tapen! Pienso que habrá mucha gente para esa época, y sobre todo mucha gente excelente, supongo que como todo el graffiti debe evolucionar para adaptarse a las necesidades de esa nueva gente, me incluyo, aunque creo que para esa época (año 2085) seran mis nietos los que hagan graffiti.
I guess the machine also will be introduced in Graffiti!, will have extra aid spray, or one spray could containing two or more colors and you can change the color as you chose. No clogged caps! I think that there will be many people at that time, and especially a lot of great people, I suppose like all graffiti must evolve to meet the needs of these new people, myself included, although I think that in this time (year 2085) my grandchildren will do graffiti.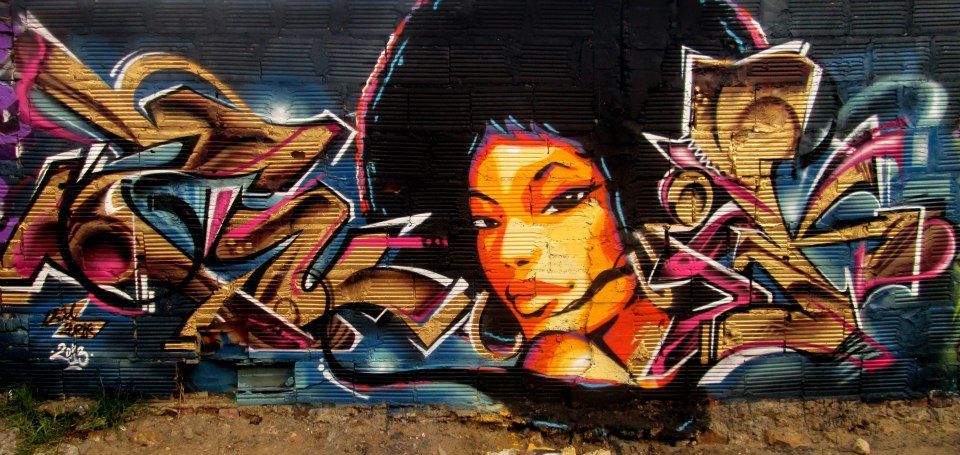 ¿Dónde te gustaría pintar?
Where do you like to paint?
En todas partes, no quiero quedarme en colombia, realmente soy una persona a la que le gusta estar cambiando constantemente su entorno porque la monotonía la aburre, la seca, me gusta alimentarme de nuevos espacios, nuevos retos, personas diferentes, sueño con pintar en lugares hermosos pero desolados, playas vírgenes, pueblos cerca a desiertos, montañas, cosas por el estilo, en cuanto a países, no tengo ninguna preferencia por ninguno, seria genial conocerlos todos, pero eso requiere no solo dinero, sino constancia.
Everywhere, I don't want to stay in Colombia, really I am a person who likes to be constantly changing their environment because the monotony bores, dry it, I like to feed on new opportunities, new challenges, different people, dream painting in beautiful but desolate places, pristine beaches, towns near deserts, mountains, things like that, in terms of countries, I have no preference for either, I know them all would be great, but that requires not only money but perseverance.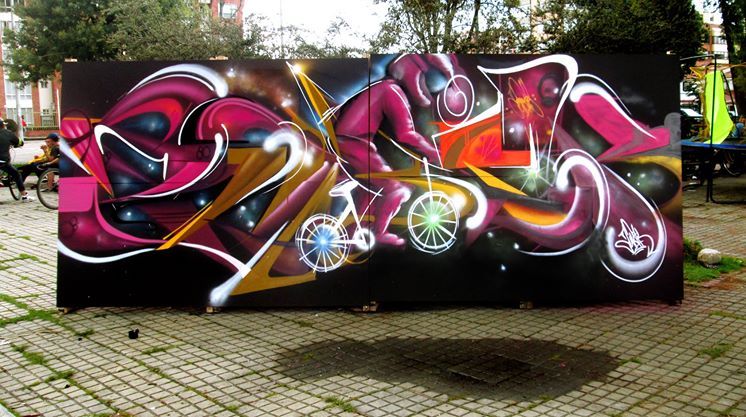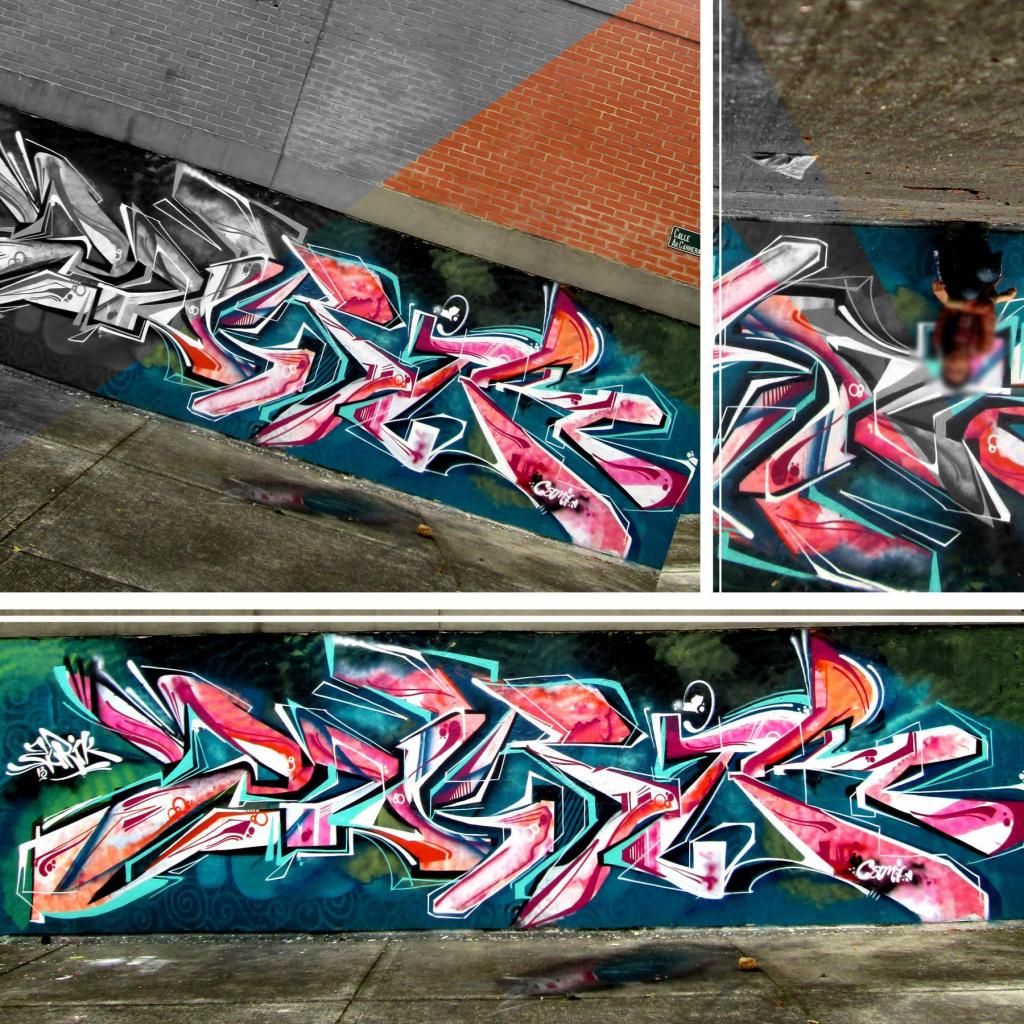 ¿De qué zona del planeta te gustaría ver entrevistas en elrincondelasboquillas.com?
From which part of the world would you like to see interviews in elrincondelasboquillas.com?
Me gustaría ver de Tailandia o Corea del Sur, china, tengo mucha curiosidad por saber como se desarrolla el graffiti de una cultura oriental.
I would like to see Thailand or South Korea, China, I have very curious to know how graffiti of an oriental culture develops.

¿Qué te parece la idea de mostrar tus graffitis en esta web como es "elrincondelasboquillas.com" para que la gente pueda ver lo que haces?
What do you think about the idea of us publishing your graffiti on our web «elrincondelasboquillas»?
Siempre será genial poder mostrar lo que haces, es una forma de contribuir a que otros se motiven y salgan a pintar.
It is always great to show what you do, it is a way to help motivate others and going to paint them.

¿Cuáles son tus escritores favoritos?
Which are your favorite writers?
Solo tengo uno, me lo reservo, pero a parte de el, creo que el trabajo de Bonzai, Pacer y Vesod ha alimentado mucho mi interés por las posibilidades de la imagen.
I have one favorite writer I save him , but part of it, I think that the work of Bonzai, Pacer and Vesod has been nice to see this writers because i have been able to increase my interest in the possibilities of the image.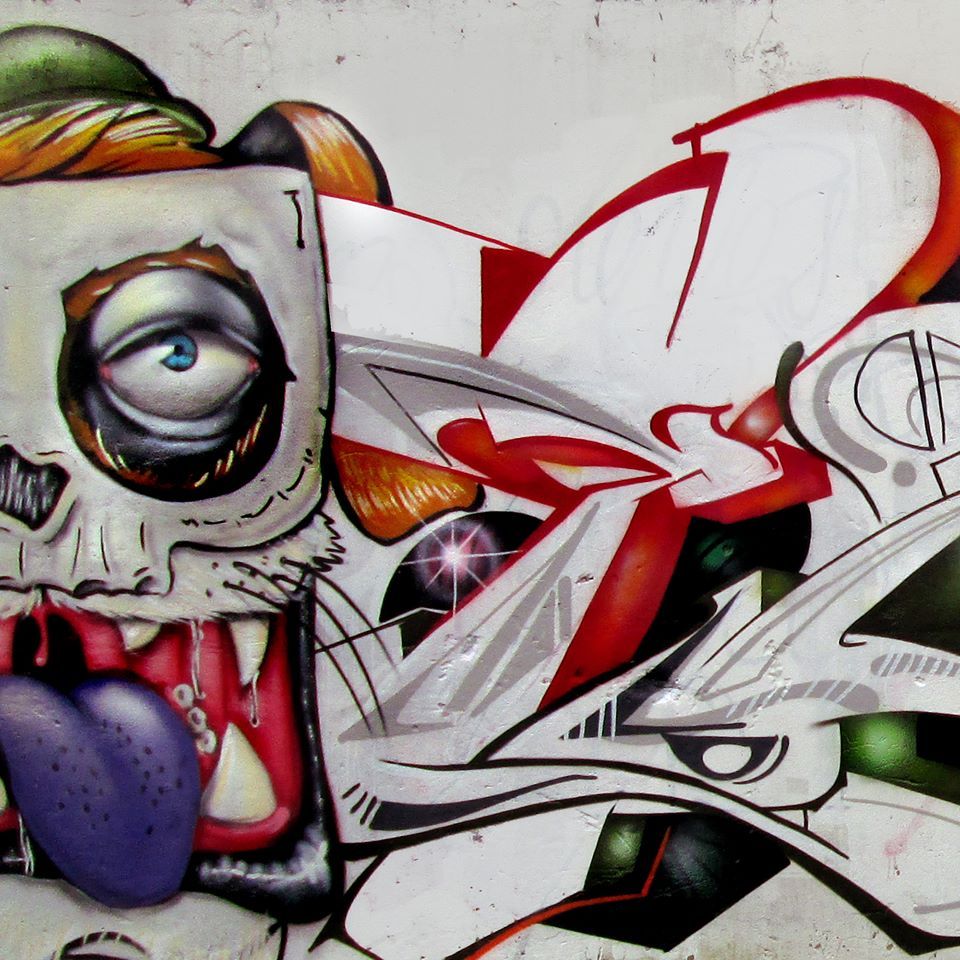 Y para acabar ¿algo que quieras decir?
And to finish something you want to say?
Amo lo que hago y volveria a hacerlo, aun sabiendo lo que perderé en el camino, volveria a tomar la misma decisión de hace 3 años, haría graffiti por la misma razón, simplemente porque quiero.
I love what I do and i would do it again, Although I am knowing what i will lose on the road, I would make the same decision 3 years ago , I will do graffiti for the same reason, just because I want do it.