Jimmy C
London (England)
¿Por qué tu tag es » Jimmy C «?
Why your tag is » Jimmy C «?
Mi primer tag era Jam que viene de mi nombre James. Actualmente uso el nombre de Jimmy C cuando estoy pintando en la calle, y esto también es una abreviatura de mi nombre completo.
My first tag was Jam which came from my name James. I currently use the name Jimmy C when I am painting on the street, and this is also an abbreviation of my full name.
¿Qué fue lo que te motivó para empezar a ser un escritor de graffiti?
What motivated you to get started being a graffiti writer?
Al principio fue la calidad underground y misteriosa que me atrajo, y la idea de pintar colores en las sombras de la noche. En el momento me ayudó a encontrar la identidad que estaba buscando.
At first it was the underground and mysterious quality that attracted me, and the idea of painting colours in the shadows of the night. At the time it helped me find the identity I was looking for.
¿Cuál es tu estilo?
What is your style?
En 2004 desarrollé una técnica que he llamado puntillismo Aerosol, haciendo que la imagen fuera de puntos. Esto se convirtió en lo que he llamado «las pinturas de goteo», cuando cada punto se convierte en un punto de goteo. Me gusta la idea de la atomización de mis retratos o rompiéndose en átomos o esferas. Desde entonces, he experimentado también con la idea de la pintura del garabato que también está hecha de capas con líneas onduladas de colores.
In 2004 I developed a technique which I called Aerosol pointillism, making the image out of dots. This developed into what I called the Drip Paintings, when each dot became a drip. I like the idea of my portraits atomising or breaking apart into atoms or spheres. Since then I have also experimented with the idea of Scribble paintings which are also made from layers of coloured squiggly lines.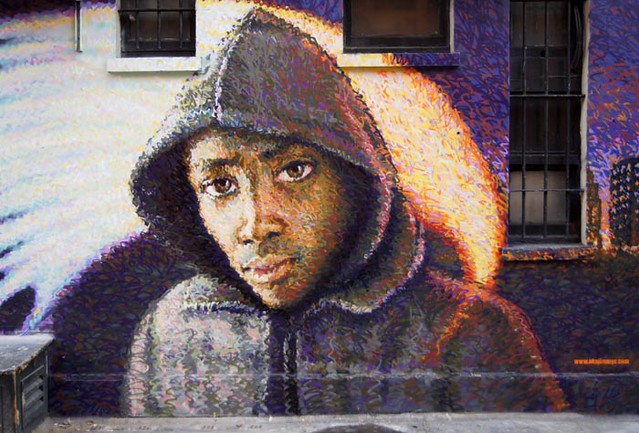 ¿Qué piensas sobre la idea de publicar tus graffitis en nuestra web «elrincondelasboquillas.com»?
What do you think about the idea of us publishing your graffiti on our web «elrincondelasboquillas.com»?
Pienso que esto es una buena oportunidad, y siempre es bueno compartir el trabajo, así como aprender acerca de lo que otras personas están haciendo.
I think it is nice opportunity, and always good to share the work around as well as learning about what other people are doing.
Graffiti ….. ¿Cántidad ó Calidad?
Graffiti …. quantity or quality?
Cuando empecé hubiera dicho la cantidad, pero ahora diría con seguridad la calidad. Empezando con el tag, incluso si haces sólo unos pocos tags con buen estilo , la gente siempre se acordará de ellos. Mi tag era bastante simple y era principalmente una cuestión de cantidad en aquel momento, mientras que para las piezas tenía la esperanza de tener cantidad y calidad! A pesar de que hoy en día pinto en un estilo diferente, mi fondo viene de levantarse como un escritor de graffiti que todavia tiene una influencia.
When I first started I would have said quantity, but now I would say quality for sure. Starting with the tag, even if you do just a few tags with a really nice style, people will always remember them. My tag was fairly simple and it was mainly about quantity at the time, whilst for the pieces I was hoping to have quantity and quality! Even though I paint today in a different style, my background in getting up as a graffiti writer still has an influence.
¿Cómo te imaginas el graffiti en el futuro (Año 2085)?
How do you imagine graffiti in the future (Year 2085)?
Una de las cosas que tendrán una influencia aquí será la calidad de la pintura (es decir, si seguimos utilizando pintura!). La tecnología influirá en el aspecto de la obra, por lo que quizás habrá herramientas que puedan rociar una imagen virtual o digital en el espacio como un holograma, lo que podría ser duplicada ó reposicionada en diferentes áreas a través de las telecomunicaciones .Una pieza holográfica en Londres podría ser instantáneamente transmitida o enviada a una pared o en el medio ambiente en Hong Kong o en Tel Aviv. Las piezas también serían capaz de moverse y transformarse con elementos cambiantes e interactivos, y los artistas podrían colaborar en la misma pared o en el espacio desde distintos puntos del mundo.
One of the things that will have an influence here will be the quality of paint (that is if we are still using paint!). The technology will influence the look of the work, so perhaps there will be tools that can spray a virtual or digital image into space like a hologram, which could be duplicated or repositioned to different areas through telecommunications.A holographic piece in London could be instantly transmitted or sent to a wall or environment in Hong Kong or Tel Aviv. The pieces will also be able to move and morph with changing and interactive elements, and artists will be able to collaborate on the same wall or space from different points in the world.
¿Puedes hablarnos del graffiti en tu ciudad?
Can you talk about this as the graffiti in your city?
En Londres hay una buena variedad de graffiti y formas de street art. Es un crisol de muchos estilos!
In London there is a good variety of graffiti and street art forms. It is a melting pot of many styles!
¿Cuál es tu crew?
What is your crew?
Mi primera crew de graffiti fue RCF (Rock City Funk), comenzamos en Sydney, Australia en 1985.
My former graffiti crew was RCF (Rock City Funk) which started in Sydney, Australia around 1985.
¿Cuáles son tus escritores favoritos?
What are your favorite writers?
Partiendo desde los primeros días: Skeme, Lee, Dondi, y Phase 2.
From the back in the days it was Skeme, Lee, Dondi,and Phase 2.
Y para acabar ¿Algo que quieras decir?
And to finish something you want to say?
Respeto para todos los artistas y b-boys y b-girls que desarrollan su trabajo y lo hacen porque lo aman.
Respect to all the artists and b-boys and b-girls developing their craft and doing it for the love.
@akajimmyc