Hase
Castellon (Spain)
¿Por qué tu tag es «Hase»?
Why is your tag «Hase»?
Me gustaron las letras y el nombre me sonaba bastante bien luego me di cuenta que en Aleman significaba «liebre» y me gusto bastante porque tenia mucho juego.
I liked the letters and the name sounded pretty good then I realized that in German means «hare» and I liked a lot.
¿Qué fue lo que te hizo coger un spray y ponerte a pintar en las calles? 
What made you take a spray can and start painting on the streets?
La adrenalina de cuando eres un niño.
The adrenaline when you're a child.
¿Qué tratas de decir con tus graffitis? 
What do you try to say with your graffiti?
No quiero decir nada, pero de cierto modo digo que estoy aquí. Y que he estado ahi. Donde hay un tag, un plata, pieza o lo que sea, que halla salido de mi cabeza, hay estuve.
I don't mean anything, but somehow I say I'm here. And I've been there. Where there is a tag, throw up,piece, whatever, that is out of my head, there was.
¿Qué te parece la idea de mostrar tus graffitis en esta web como es "elrincondelasboquillas.com" para que la gente pueda ver lo que haces?
What do you think about the idea of showing your art in this web as "elrincondelasboquillas.com"to let people know about you?
Me parece de puta madre.
I think it's nice.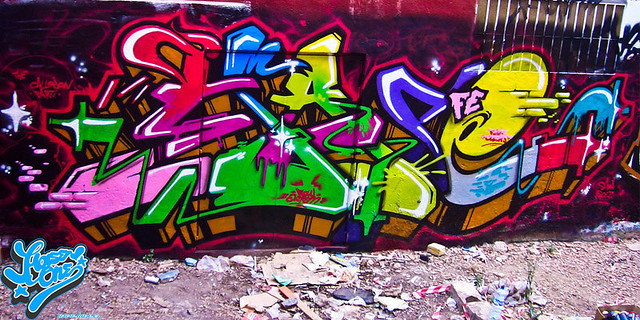 ¿Cuales son tus escritores favoritos?
What are your favorite graffiti writers?
Hay muchos que me gusta como pintan y hay mucha calidad ahora mismo suelta por el mundo no tendría folios suficientes.
There are many that I like high quality paint and there are now loosed upon the world wouldn't have enough pages.
 ¿Qué cosas o conceptos te definen como persona o artista?
How do you define yourself as an artist?
Mi cabezoneria por superarme dia a dia, en el graffiti y en todo lo que hago.
My stubbornness to improve every day, in graffiti and everything I do it.
¿Cuál es tu crew?
What is your crew?
(Ktm) y (flow extreme crew)
(Ktm) and (flow extreme crew)
 Y para acabar ¿algo que quieras decir?
Something that you want to say before finishing with the interview?
Daros las gracias a vosotros y a todos los que me quieren porque se que estan ahi.
To thank you and all those who love me because I know they are there.